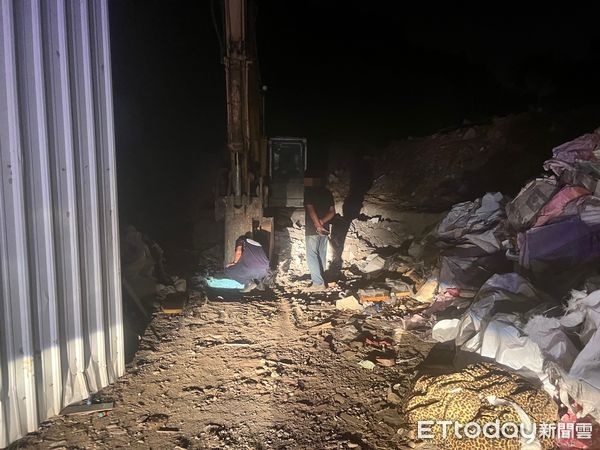 A workplace accident occurred in Wugu District, New Taipei City, recently. In a furniture factory on Minyi Road, Section 1, the owner was operating an excavator to sort construction materials. Unfortunately, the bucket accidentally struck the head of a foreign migrant worker nearby. The worker collapsed on the spot, and despite immediate efforts by the factory to rush him to the hospital, he was pronounced dead after rescue attempts. The deceased worker had overstayed his visa, and his body remains in a mortuary as authorities are unable to contact his family.
Last Wednesday, around 7 p.m., the 47-year-old owner of the furniture factory, Mr. Liu, was preparing to categorize furniture materials using an excavator. While rotating the sorting equipment, the bucket accidentally struck the head of a 49-year-old Thai man named Nan. Nan immediately lost consciousness and collapsed. When Mr. Liu noticed, he rushed Nan to the hospital for emergency treatment. Despite extensive efforts, Nan was pronounced dead.
The hospital discovered injuries to the head of the man surnamed Nan and immediately contacted the police. It was found that the identification carried by Nan did not belong to him; upon investigation, he was identified as an overstayed migrant worker. The owner, Mr. Liu, stated that Nan was introduced by another worker, and he was unaware of Nan's illegal status. Mr. Liu is uncertain whether the head injury resulted from his own operation. Following the investigation, the police transferred Mr. Liu to the New Taipei City District Prosecutors' Office for charges of negligent homicide and violating the Employment Service Act.
The police stated that, as the Thai worker overstayed and used someone else's identification, after thorough verification, his identity has been confirmed. Currently, through diplomatic channels, the police have contacted the Thai embassy to reach out to his family. If the family cannot claim the body within the specified period, it will be cremated following legal procedures, awaiting their arrival.
〔ETtoday / New Taipei City Report from Lu Yunxiang (陸運陞) 〕2023-10-04 10:15
〔Photo by Reporter Lu Yunxiang (陸運陞)〕2023-10-04 10:15