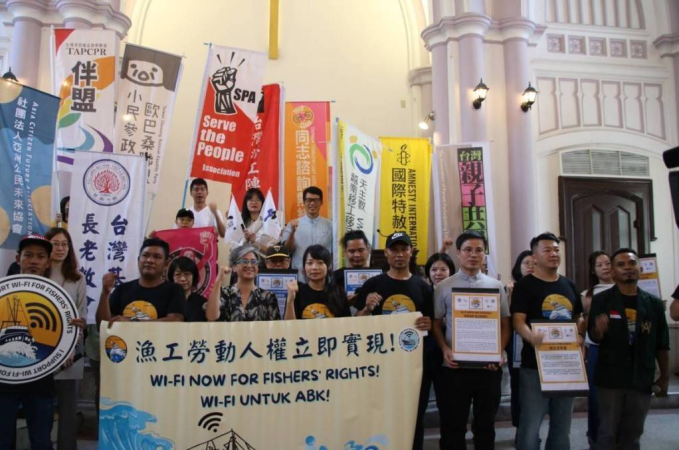 The Taiwanese series "Port of Lies," which tackles issues like migrant workers, interpreters, and the death penalty debate, has been making waves since its summer debut this year. The plight of foreign fishermen, in particular, has garnered significant attention. Civil society groups have highlighted that ensuring maritime workers' right to use Wi-Fi at sea is a crucial factor in improving their labor rights and mental well-being. On September 1st, more than 20 civil society organizations stepped up to support fishermen, urging the government to prioritize the internet rights of fishermen.
To urge the Taiwanese government to swiftly implement internet rights for fishermen, several NGOs at home and abroad initiated the "Wi-Fi Now for Fishers' Rights at Sea" petition project back in February. On September 1st, six leading organizations jointly organized the "Wi-Fi Now Advocacy for Immediate Fishermen's Labor Rights" rally and press conference, with support from over 20 organizations present.
Social enterprise "Humanity Research Consultancy," founded by Jiang Yumin, emphasizes that once Wi-Fi is available on fishing vessels, fishermen are no longer isolated and helpless. This can improve their mental and physical health while reducing the risk of forced labor. However, the Fisheries Agency currently only provides subsidies to encourage ship owners to install or share Wi-Fi on board. The subsidy conditions are quite lenient, requiring only 5 minutes of internet access for fishermen each week to qualify for assistance. Moreover, these subsidies are not mandatory for ship owners.
The Forum Silaturahmi Pelaut Indonesia (FOSPI), representing fishermen, stated that approximately 22,000 fishermen work on 1,100 fishing vessels in Taiwan. Out of these, around 2,300 fishermen are members of FOSPI. FOSPI often receives various complaints and negative reports. For instance, last year, in Pingtung, three crew members were reported missing at sea due to stress. A representative from FOSPI said, "Last Monday, August 21st, a Filipino worker hanged himself on the ship due to immense pressure. This month alone, three fishing vessels have gone missing due to bad weather, and we still don't know the whereabouts of the crew. As fishermen and as FOSPI officials, we regularly receive such news. This is why we understand the importance of Wi-Fi because neither unions nor organizations like the Starfish Seafarers' Center can promptly intervene and support fishermen."
FOSPI representatives revealed that next Monday, the advocacy team is scheduled to meet with the Prime Minister, and they greatly appreciate the Prime Minister taking time to discuss solutions. Additionally, they are thankful for the supportive employers of fishermen and the Fisheries Agency for maintaining an open attitude on this issue. Nearly 1,000 fishermen and over 1,900 individuals and groups, including non-fishermen, have signed petitions in support of fishermen's fight for internet rights. This is undoubtedly a significant morale booster for fishermen.
〔Radio Taiwan International / Report from Interview / Written and Edited by: Chen Nianyi (陳念宜) 〕2023-09-01 11:57
〔Photo by Taiwan Association for Human Rights〕