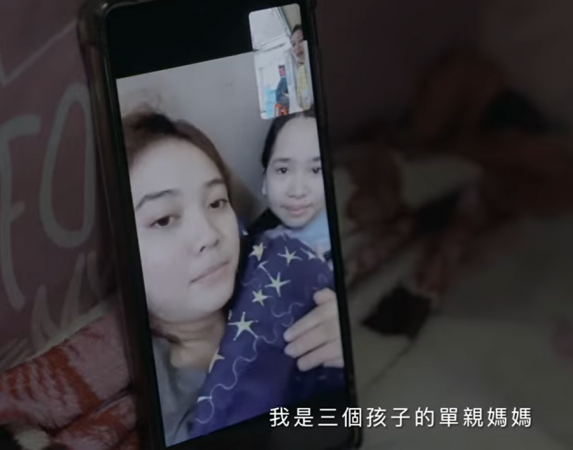 "I video chat with my children every day. They are still studying. What they only know is that Mommy lost all her hair because of sickness. My heart hurts." ​Video chatting is the only way for Orcina, who came to Taiwan alone to work as a caretaker, to accompany her children.​
Orcina is a single mother who supports the entire family and raises three children on her own. In the six years of working as a caretaker in Taiwan, she has worked hard to be the most reliable financial support for the children. In addition, she hopes to earn enough money to make three of them go to college so that they don't need to follow her as a hard worker in the future.
To achieve this wish, she tried so hard that she could only return home once when the contract expired in the third year. Because she has been away from the children for a long time, Orcina insists on video chatting with her children every day. She told us, "It is my biggest regret not being able to accompany my children to grow up, but I have no choice but to make money to support my family. I can only video chat with them every day, and let them know that mommy is always there."​ Connecting with the screen is already the moment when she is closest to her beloved children.
In her fifth year in Taiwan, she felt a painful lump in her breast. Although it was finally confirmed that she had stage 2 breast cancer, Fortunately, it wasn't discovered too late. She still had a good chance of recovery if receiving proper treatment.
After the operation to remove the tumor, Orcina had to go to the hospital for chemotherapy every three weeks. Every time she came back, she was very weak and would vomit repeatedly, making it difficult for her to absorb nutrients. The poor petite lady now looks even thinner. ​Accompanied by our partners in SPA, Orcina currently only needs stable chemotherapy to control her condition, and she will have the opportunity to return to her homeland and reunite with her family in good health. Her children are kind and lovely. They often share their school stuff and daily life with Mommy during their video chats. They also keep praying that their mother's condition will be stable and be able to go home as soon as possible. ​​​​
The chemotherapy process was extremely painful. All the effects of discomfort, including poor eating and sleeping conditions, caused Orcina to lose weight rapidly. However, she had a strong will to survive and never thought of giving up. When she was depressed and helpless, thinking of the children's faces looking forward to reuniting with their mommy always fills her with courage, and renews her energy to fight against the illness. ​
It is the strength of being a mother that allows Orcina to survive the chemotherapy again and again. She jokes that she is a cancer survivor, but in our eyes, she is a real cancer fighter. ​ "My children always ask me why I don't go home. I know that the medical treatment in the Philippines is not good. There will be no chance for me to survive, and make me a drag on my children. I am a single mother and they are the only ones to rely on. I will work hard to get well soon, and never fall."​
It is not easy for single mothers to raise their children, and Orcina's situation is even more difficult when she suffers from a serious illness in a foreign land. Please join us and do our best to help the injured and sick migrant workers in their care and medical treatment during the treatment period. We hope Orcina's three children can keep growing up under the love and company of their mother.段