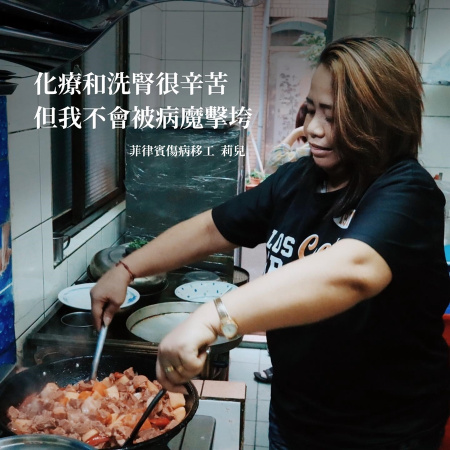 This is the second time that Lier has been admitted to the shelter of the Serve the People Association.
Lier, who came to work in Taiwan from the Philippines, worked in Hualien as a caregiver more than two years ago. At that time, she once found that her weight had dropped by 14 kilos within a month. She went to an examination and was diagnosed with the third stage of ovarian cancer. The long-term follow-up, treatment, and coordination of life and work after being diagnosed with severe illness are difficult challenges for any migrant worker. Therefore, she turned to our shelter for help. Accompanied by the SPA, Lier began the long journey of surgery and had chemotherapy.
Surgery to remove the tumor left a long, deep scar on Lil's belly, and chemotherapy left her with all her hair. But she never wants to worry her parents in the Philippines, so she always insists on putting on a wig when she calls her family on Facetime.
After finishing the course of chemotherapy, Lier gradually recovered and found a new employer, continuing to take care of the elderly as a caregiver. However, the old man she was in charge of taking care of at the time, who had been bedridden for a long time, weighed 90 kilograms. Once Lier helped him up, she accidentally used too much force, causing the old wound she had operated on to burst out and bleeding in the abdomen. Since she just recovered from a serious illness, the accident was in so much pain to her that she had to change to another employer's house to work.
However, the new employer often refuses to allow Lier to drink the water at their home because the water quality at home is not good. Only one month later, Lier suddenly fell into a coma due to a high liver index and was sent to the intensive care unit for emergency treatment for three days. It was found that her kidney function was damaged, and she began to need regular kidney dialysis.
This bad news came like a bolt from the blue to Lier, who was 41 years old and in her prime. She was again admitted to our shelter and required dialysis at least three times a week. The doctor told her that as long as she can maintain good living habits, there is still a chance to reduce the number of weekly dialyzes.
For a foreign caregiver who is engaged in long-term care and never relaxes for a moment during work, "maintaining a good living habit" may not be as easy as most people imagine that can be achieved entirely by her efforts. The cheerful and sunny Lier told us with a still bright smile: "I used to be a female guard with guns in Manila, I was very strong! And the shelter is like my big family, I believe I will get better and better under everyone's care."
We look forward to helping Lier obtain a better recovery environment so that she can continue to move forward bravely with such positive beliefs. We actively accompany the treatment of injured and sick migrant workers, providing them with a comfortable living space where they can take care of each other. After all, no one wants to get sick, especially when they encounter such difficulties in a lonely foreign land, they need your help and we look forward to your caring and helping hands with us.