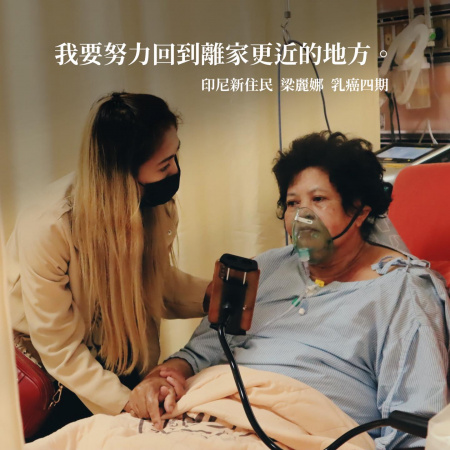 Panting under the oxygen mask, the face with profound features is Liang Li-Na, a migrant worker from Indonesia. Three years ago, she had surgery for breast cancer. This year, she suddenly had severe chest pains, and she even felt unable to breathe. When she went to the doctor, they found that the cancer cells had spread to the bones, and the diagnosis was judged to be terminal.
Faced with the sudden bad news, Lina didn't even have a family member to confide in. Working in Taiwan for decades, she can only rent a suite to live alone. Here she has no children to rely on, and even her siblings are in Indonesia. Because she is not good at reading and writing Chinese, Lina, who has reached retirement age, still could only look for part-time jobs in restaurants. She once fell at work and was scalded by hot oil. After recovering, her left hand still has a large area of scars that cannot be removed after skin grafting.
About a month ago, Lina's condition deteriorated, and she could only eat through a nasogastric tube for a long time. After struggling for a long time, her condition barely improved this week. Since there wasn't any assistance from caregivers for her, she couldn't even accurately communicate to the medical staff that she needed to change her meals to porridge. She didn't eat anything until we communicated with her and bought steamed eggs and sweet potato porridge that she could eat.
One of these days, our colleagues from the Indonesian Shelter of SPA visited Lina in the hospital. When she met her fellow countrymen, she showed a rare smile, cheered up a little, and enthusiastically shared photos of her daughter on her cellphone. Lina's daughter is 13 years old this year. She has worked hard to make money in Taiwan for many years in order to support her child to live and study in Indonesia. Now that she is ill and unable to work, how will her child's studies in Indonesia continue in the future? Thinking of this, Lina couldn't help but be emotionally broken again.
"I don't want to give up yet! Someone could help me buy a place to be buried in Taiwan, but I have to work hard to recover and regain my strength, and go back to Indonesia to see my family! I will return to wherever closer to home!"
Lina has been in Taiwan for decades and working hard in this land, but now she is alone, facing the long and arduous journey of fighting cancer, without even her family who can take care of her. She has received low wages for a long time, therefore, in the future, the cost of intensive medical care, daily nursing expenses, and the tuition fees for her daughter before turning 18 have become the rush problems at present.
Even so, Lina never gave up on survival. She worked hard to make herself no longer dependent on nasogastric tubes and fought against illness in a foreign land for her beloved family. We will continue to accompany her in her medical treatment and support her needs. We hope that everyone will join us to cheer for Lina, support her to overcome difficulties and return to her homeland of Indonesia to reunite with her family as soon as possible.